Opportunities at
Healthcare Homes
Search and apply for our current vacancies across the South and East of England.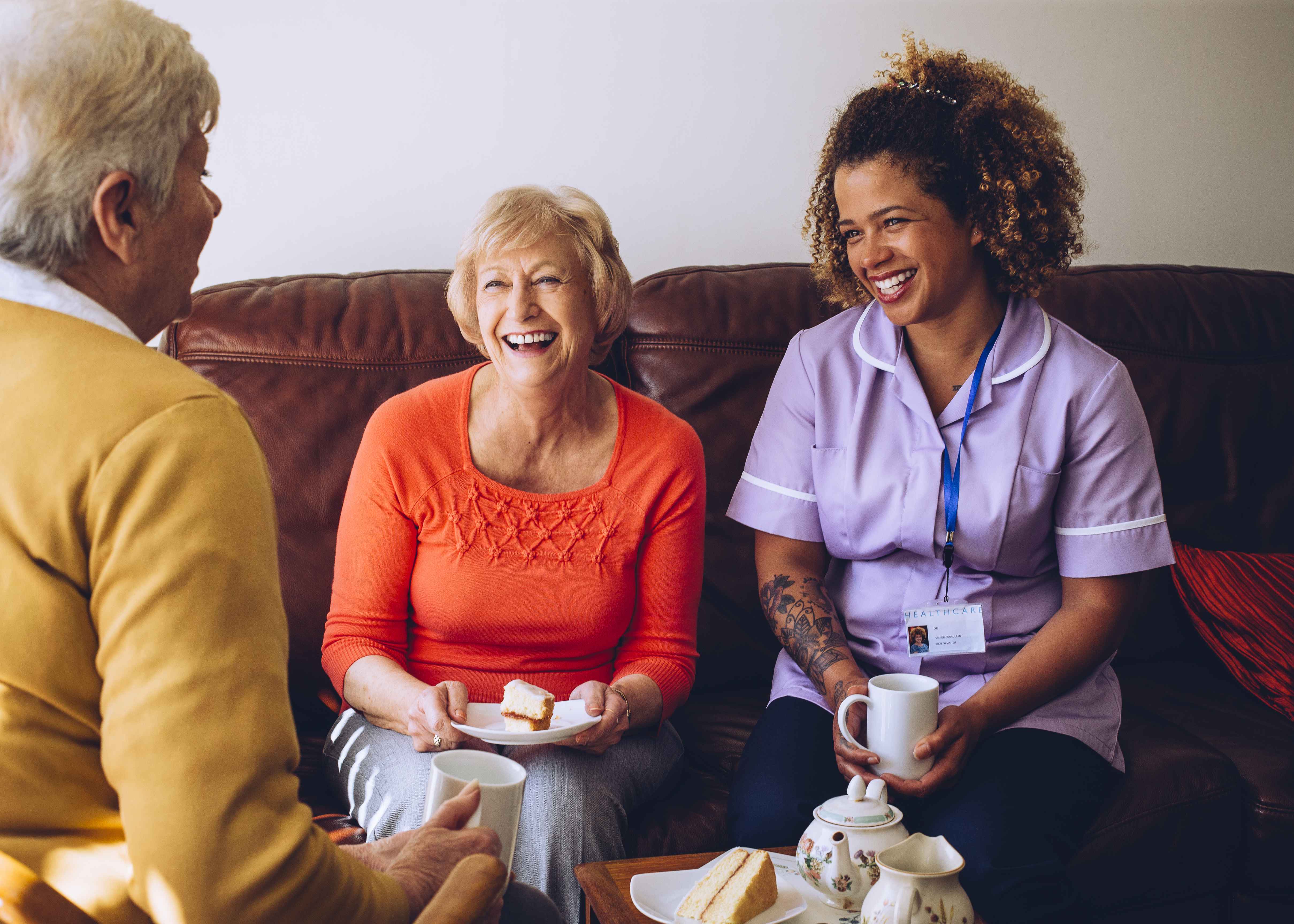 Training is the lifeblood of any career and at Healthcare Homes we offer a comprehensive range of learning and development opportunities to all of our employees, whether joining the sector as a first job, moving from a different sector for new opportunities or transferring from another employer to seek progression. This includes training which is delivered by our in-house team of Trainers, E Learning, externally sourced courses and accredited qualifications.
Having knowledgeable and skilled staff ensures we deliver the best possible care and support to our residents and service users, but we also want to provide a comprehensive journey which offers all staff a learning and career pathway.
At Healthcare Homes, we place great importance on understanding the career development aspirations of each one of our team members. We have Learning and Development Frameworks in place, which set out the learning pathway for every job role. We work hard to ensure each team member has the opportunity to develop their knowledge and skillset further; whether it be advancing their knowledge relevant to their current role, or understanding what training an individual can undertake to move to another job role within the organisation. We also provide Leadership Development programmes for those wanting to strengthen their leadership skills.
Induction
If you are joining one of our care teams, your journey will always commence with a 5-day experience of classroom-based training with an in-house trainer, selected e-learning modules and a period of shadowing and practical assessment, enabling you to be awarded your Care Certificate. No matter what your previous experience, this will give you an introduction to working for Healthcare Homes, our values and beliefs, and the different roles within our homes and branches.
Our trainer-led sessions are fun and interactive, whilst providing with you with the knowledge and skills which will allow you to develop an understanding of the duties specific to your new role and to support all aspects of the care and wellbeing of our residents and service users.
We will introduce you to your new working environment and cover such topics as health and safety, person centred care, support with personal hygiene, grooming and dressing, support with eating and drinking, moving and handling and basic first aid and life support.
Completion of this week will see your confidence grow so that you feel ready to step into your role and commence your new career with us.
Your Learning Journey
With Healthcare Homes your learning does not stop there; this is just the beginning.
It is imperative that all staff keep up to date with the latest developments, and so a cycle of refresher training will be provided. Again, this will be provided by coming back together with your allocated trainer and engaging with online opportunities which cover both theory and practice.
As you will now have more confidence and experience, you will find these sessions more tailored to your needs; with your trainer on hand to assist with any questions or challenges you may have faced in your everyday work, as well as providing you with the latest updates in practice which you can then go away and embed.
Updates will be both practical and theoretical in nature and cover such subjects as Moving and Handling, Mental Capacity, Safeguarding, Infection Control and Food Hygiene; all of which will focus on your actual role and your home environment.
Specialist courses for carers
You will want to feel confident to work with a range of residents and service users and to understand their medical conditions, as well as their care and support needs.
You will therefore have constant access to a range of specialist courses which you can discuss with your line manager in your regular supervisions and yearly appraisal. These courses have been selected specifically for individual job roles and will enable you to develop your individual skillset further as you look to further your career with us.
There are over 40 subjects on offer including:
Continence and stoma care
Parkinson's disease
Stroke awareness
Diabetes
Mental Health Conditions
Dysphagia
Palliative care / End of Life Care
Tissue viability
Pressure ulcer care

In addition, we have a range of Dementia modules if you work in one of our specialist services which are all delivered by our expert trainer in this field. You may even be selected to become a Champion and be trained to support your colleagues after completion of an accredited course; a true recognition of your passion for the care and support of your residents.
You may have a particular interest in pursuing a career supporting our clinical nursing team. We provide not only individual clinical modules covering both theory and practice, but we have developed a new role of Assistant Practitioner where you can be trained to a high level of knowledge and skill in order to fulfil extended activities with our residents within our nursing homes.
To find out more about care roles in your area, click here.
Development opportunities for hospitality staff
You may have joined us a Kitchen Assistant but have ambitions to be a 5 star chef. We can support you with a comprehensive development programme which will assist you to learn the skills to run one of our kitchens and lead a team of other staff. This journey will teach you all aspects of not only designing and delivering varied menus to meet the needs of your residents, but all aspects of running an efficient kitchen within a budget.
You may have joined us as a domestic and have ambitions to lead a housekeeping team. Again, we offer a development programme which will support you to meet all of your goals and head up these vital services in one of our homes. This will include all of the theoretical and practical aspects of managing a team within a budget and ensuring all hospitality services are provided safely and effectively for your residents.
To find out more about hospitality roles in your area, click here.
Supporting our maintenance teams
We support all of our maintenance staff to achieve their IOSH Managing Safely course. This ensures they are proficient and confident in all aspects of health and safety to best support the home, residents and staff. Completion of Legionella Awareness Training, Fire Marshall Training and Electrical Appliance Testing are also part of our standard offer of learning and development.
To find out more about maintenance roles in your area, click here.
Nurse development and accreditation
All nurses are automatically assigned a series of clinical courses that cover theory and practice in order to support them in their roles with us. In addition, we can enrol you onto our RCNi subscription which will give you access to over 200 online modules, every copy of the Nursing Standard, a Decision Support Tool aligned to your everyday practice, and critically an online revalidation portfolio so that you are always ready to renew your registration.
And what if you want to progress to be a Deputy Manager or Home Manager? We can support you to enrol onto and achieve your Level 5 Leaders Accredited Qualification, which is recognised across our sector and most importantly by CQC.
To find out more about nursing roles in your area, click here.
Developing our managers
All managers joining our services will be actively encouraged and supported to join the Level 5 Leaders accredited programme unless they have previously achieved. We then recognise that managers require ongoing support, mentorship and perhaps coaching; all services which we are actively developing. For those seeking progression, we have bespoke leadership programmes which are delivered by an external consultant. These programmes support our ambition for talent management and succession planning, and provide an opportunity to involve staff in the momentum of change and future development of individual services and our organisation as a whole.
To find out more about management roles in your area, click here.
Accredited programmes for everyone
No matter what role you are fulfilling, how long you have worked with us and what your ambitions are; we have an all inclusive and comprehensive programme of accredited programmes which are fully funded. The programmes begin at Level 2 and work their way to a Level 7 Masters Degree Apprenticeship and are supported by recognised and quality assured providers.
We aim to provide opportunity and progression for all staff members as we want your role with us to give you a career and not just a job.
Whether you join us a care worker with aspirations to be a clinical practitioner or a manager; or a kitchen assistant to be a Chef; or a manager to be a Director; we have learning pathways and a career for you.